Hello Gamers,
Another week just passed by and we are being welcomed to spend our next weekend with another 2 FREE games from Epicstore – which is truly epic.

Nuclear Throne is a post-apocalyptic roguelike-like top-down shooter. Not 'the final hope of humanity' post-apocalyptic, but 'humanity is extinct and mutants and monsters now roam the world' post-apocalyptic. Fight your way through the wastelands with powerful weaponry, collecting radiation to mutate some new limbs and abilities. All these things and more you could do if only you were good at this game. Can you reach the Nuclear Throne?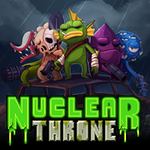 ---

RUINER is a brutal action shooter set in the year 2091 in the cyber metropolis Rengkok. A wired psychopath lashes out against a corrupt system to uncover the truth and retrieve his kidnapped brother under the guidance of a secretive hacker friend. Combine preternatural reflexes, augmented tools, and the arsenal of fallen foes to tear down and dismantle the corporate titans of virtuality dealers at HEAVEN.

Great Findings for this weekend
Bully: Scholarship Edition Steam CD Key – 2.92$
Watch Dogs 2 EU Uplay CD Key – 9.59$
---